Reader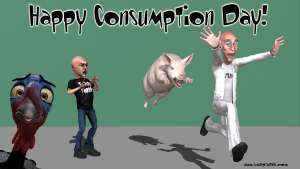 Well Halloween is over once again and I am not kidding either!  Then we moved on to the next scary holiday, where again hideous foul creatures slithered out of the shadows, but this time masquerading as humans, foaming at the mouth, spewing their garbage in the laps of all the naive unsuspecting real humans…

November Midterm Voting Day!

But once voted into office rest assured they too will return to lurking in the shadows, salivating over the remains of human dignity they that just devoured, and we will all wonder if they too really exist!

Well let's move on before this turns into a full blown rant on politicians.  The last time I got on that soap box it took several months to get me off the subject!

Sorry about that!  Ha-Ha-Ha!

We are all consumptionistic by nature, we consume things, it's what we do and we're very good at it.  Well… at least we used to be very good at it… back when we had the means to acquire things to consume.  Now we consume to survive instead of to thrive, and that's a real shame, I think we deserve better!

Well thankfully, that's what Thanksgiving's Day is all about, consuming a very large ugly dead bird or a big fat ugly dead piggy!  Under no circumstances are you to try to eat a very large ugly "LIVE" bird or a big fat ugly "LIVE" piggy, it just won't taste the same and I am not kidding either!

Besides you'd have to try to catch one first,  
and anyone who has tried to catch any type of live animal will tell you that it is not a very enjoyable thing to do, they will fight back… and leave scars!
Thankfully we have butchers to do all the heavy work for us now, and unlike caveman butchers who had to try to catch the ancestor to our present day turkey, the infamous Meleagris Gallopavo, which was ten feet tall and much angrier, butchers of today, if faced with such a giant beast, would just bring out a bazooka and take them down, thus no need for feather plucking!
Ha-Ha-Ha!
I know that not everyone is a meat eater, odd as it may seem, these people would rather kill and eat vegetables, which to me tastes and smells a lot like uncooked dead animals, and I am not kidding either!
Just because you can't hear them scream in horror as you rip them out of the ground, cut off their legs, asses and heads and then chop them up and throw them in a pot of boiling hot water, doesn't mean they're not, their voices are just too high pitched for humans to hear!
The bottom line is that something is going to have to die so we can consume it on this annual holiday of thanks, so enjoy your meal and be thankful that someone else killed it for you, I know I am!
Happy Consumption Day!
~ Snarp